Full-service partner for product development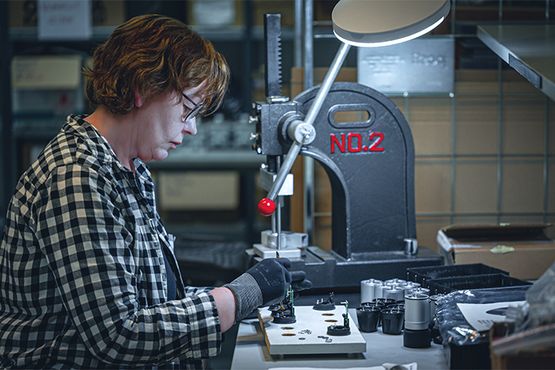 Defour is your choice if you want an excellent product development service. We offer everything needed for product development, product testing and industrialisation. Our design is of the highest level, based on experience, professionalism and open-mindedness. Our extensive partner networks in Finland and abroad ensure that we always have the best experts available and our product development services can be performed optimally.

We will be happy to tell more about our services, and will help you to find the most suitable product development solutions.
Tailored product development services
Product development according to customer needs
Product development always stems from customer needs and wishes. We tailor our product development services to cover exactly the areas they are needed for. Our product development services consist of several elements under three main categories: planning services, design and usability planning and productisation.

We serve our customers comprehensively and help by providing added value for projects. Your greatest benefit when working with us is that it is so easy; you can leave the product development project for us and focus on your business.
Versatile design services
Our design services cover the various elements of product development on a comprehensive basis. Design services consist of product testing, verification, manufacturability optimisation, various production instructions, assembly instructions, production equipment and production aids, such as jigs and tools.

Our service concept also consists of electronics planning, software development and electronics manufacture. We have created strategic partnerships in these areas of expertise, making us even stronger. We cooperate with both Finnish and foreign expert companies.
Design and usability in a key role
Industrial design, ergonomics and usability design are an important part of product development. Usability, in particular, plays a key role in the industries we mainly work with. Our expertise focuses on the timely solving of the above issues, along with the other design matters involved. This enables us to develop a concept that is as complete as possible before the first prototype is made. Our design team creates the visual finish, colors, surface treatment specification and product graphics.
Modern tools for high-quality product design
High-quality product development services place high demands on design tools. Our design tools primarily use 3D technology, enabling us to visualise how the equipment works and how it can be manufactured and assembled. We have modern CAD software, product data management (PDM) systems and version management. We make use of virtual models in the creation of various production and production animations; product animation is a useful tool in the visualisation of concept presentation and production instructions.
Cost-effective manufacturing
Advanced manufacturing operating model
After the design phase, we move on to making a prototype, and selecting the best methods for making it.

Prototypes are typically made using various rapid prototyping techniques, but traditional CNC machining is also widely used. In particular, a machined model is used when the item must have the appearance of a finished product and meet precise tolerances. However, injection mould tools are often constructed at an early stage. Using the operating model developed by Defour, components can be constructed at an early stage using a method known as the final production method, which helps to eliminate unnecessary work stages.

Stage-by-stage productisation – an economic alternative

The operating model we have developed enables the development of prototypes more economically, as well as faster, than previously. This approach also generates useful information for further design, thereby reducing costs at the tail end of the product development process.
How then to save on costs?
The intended use and operational environment of a product may have restrictions which mean that only certain materials are suitable for meeting the user's requirements. However, as the product is still at the verification phase, the mould does not have to produce large volumes, the requirements set do not have to meet those of the final product, and the required goal can be achieved more economically.

This method nevertheless provides immediate input that we can build on in further planning. At the validation phase, this enables a stronger focus on the product itself, as the challenges associated with manufacturability have already been resolved at an earlier stage. We have named the outcome of this phase the minimum viable product.

Defour's product development services always seek to serve the customer's interests as well as achieving the desired result. By applying this process, we have delivered several product development projects that have enabled customers to save both time and money.
From design to finished product
Concepting creates and evaluates a product's architecture, structure and usability. A mechanical concept and product structure are developed to fulfil the purpose of the product.

During concepting, the most critical parts are identified (concept phase risk management). The breakdown and the physical size of the product are defined and its manufacturability is evaluated.

The product design phase optimises the performance, layout and production of the product or device. We use 3D software in our product design to demonstrate the functionality, manufacturability and assembly hierarchy of products. As the project progresses, we create a functional prototype on which further developed will be based.

If products require embedded systems, we utilise the expertise and knowhow of our strategic partners.

Manufacturability planning
Manufacturability planning is part of concepting and product design. We optimise the manufacturability of products and devices, and solve production technology challenges (DFM) and assembly (DFA).

As production needs and amounts evolve, the most appropriate methods are applied for each stage, such as injection moulding, metal casting, reaction casting (RIM, PUR), extrusions, vacuum and deep contours, bending and folding, machining, welding assemblies and surface treatments.

Product animations
3D animation is a visual way of clarifying product concepts, device design, assembly, installation and maintenance. It facilitates interaction between organisations during all stages of product development. Our animations are widely used for purposes such as conceptual presentations and the visualisation of production instructions.

Our operations are based on product development partnerships. We offer not only product development but also comprehensive solutions, taking account of production and production growth requirements right from the start.

We produce fast delivery, high-quality prototypes. Creating prototypes and testing them are an essential part of agile product development. Testing reveals any problem areas in time, and changes can be implemented immediately. Our prototypes are made using 3D printing, mould techniques and machining.

Verification
We test the conformity of product parts and configurations for the specified requirements. We use the most authentic materials and production methods possible in the products to be tested.

We use test equipment for verification. Examples of our testing features include thermal resistance, moisture resistance, corrosion, drop/shock resistance, IP rating, ESD (electrostatics), dynamic vibration and mould analyses.

Test series enable the presentation, testing and delivery of finished products to customers before actual production is initiated. In this way, product marketing and commercialisation can be started before the actual production tools are ready.

Sample-derived devices can also be utilised in user testing. In the case of small-volume production, mass production methods are also available for smaller series.

Manufacturing
As a full-service product development partner, we offer our customers all necessary product development services from the solution all the way to production. We will also assist you in getting production going quickly and growing it gradually. Our highly professional team and extensive partnership ensure success in any project!